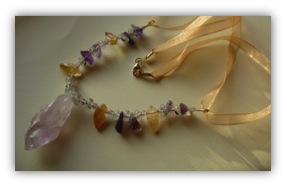 We are two friends who share a passion for beautiful and affordable jewellery. We started making jewellery in 2008, initially specialising in the Gem Weaver knitted necklaces, and then extended our range to include woven bracelets, earrings, and hair accessories. We then went on to introduce our Rainbow Dreamer range of strung items covering styles from simple stringing to long lariats and a-symmetric designs.
In 2014 we introduced our Chain Weaver range of necklaces, bracelets and earrings. For these we use a variety of metals rings woven together by applying chain mail techniques.
Our prices range from less than £10 for simple jeweled hair slides and earrings to over £110 for some of our more spectacular necklaces.
We sell our jewellery at craft fairs and through galleries (see Shows). Although we do not have an online shop, we will sell and make to order, taking payments via PayPal or bank transfer.
We are always pleased to take your ideas for bespoke items and turn them into reality.